Apple Business Manager (ABM)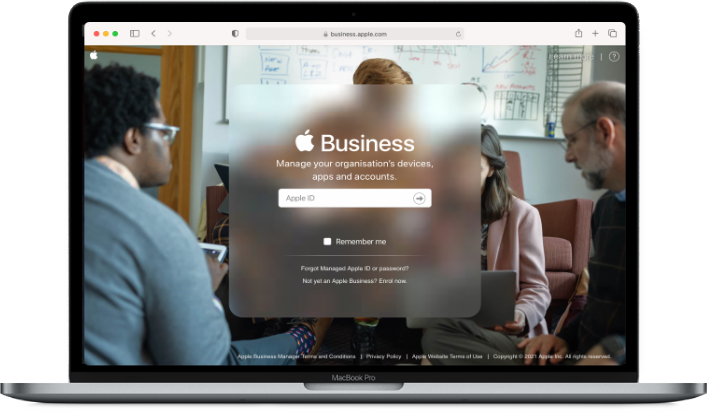 Whether you have 10 Apple devices or 10,000, it's easy to deploy and manage them with Apple Business Manager. It works seamlessly with mobile device management solutions, so you can set up Mac, iPad, iPhone and Apple TV over the air — without any need for manual configuration.
Apple Business Manager (ABM) is a simple, web-based portal for IT administrators that provides a fast, streamlined way for you to deploy Apple devices that your business has purchased directly from Apple or from a participating Apple Authorised Reseller or carrier. You can automatically enrol devices in your Mobile Device Management (MDM) solution without having to physically touch or prepare the devices before users get them.
Apple Business Manager is a central element of modern device deployment for education institutions whether you are using one-to-one or shared-device deployments.
Combined with an effective MDM solution, you can simplify the setup process for users, configure device settings and distribute apps and books you purchase in Apple Business Manager.
So that you can quickly create accounts, Apple Business Manager also integrates with your existing environment. You can integrate with Microsoft Azure Active Directory (Azure AD) using federated authentication or using System for Cross-domain Identity Management (SCIM), enabling your staff to sign in to Apple services with their existing Azure AD credentials. We are able to do most of these functions with Google as an identity source (via Azure AD) too.
Get apps and books in bulk
You can purchase world-class apps and engaging interactive books in volume, and equip your entire organisation with innovation. Through ASM, you can buy apps for both macOS and iOS as well as books from the iBooks Store. You can also get custom-made business-to-business (B2B) apps that are built uniquely for you by third-party developers and procured privately through the ASM store, so your organisation gets exactly what it needs.
Buy with purchase orders
Use a purchase order to buy Credit that is redeemable in ASM. Credit can be procured for a specific dollar amount and is delivered electronically to account administrators. You can buy Credit through your Apple purchasing account or through your Apple Authorised Reseller.



Streamlined distribution
Assign apps and books to users or groups through MDM solutions - giving you complete ownership and control over your content. When apps are no longer needed, they can be reassigned to a different user. Or you can choose to distribute content via redeemable codes, permanently transferring the app or book directly to your users.




Entity can provide a device enrolment service to you free of charge. Ask us how!

Contact Us